After coming back from an event in the desert that had us sitting in 30+ mph wind gusts all weekend I could hardly wait to be clean in the shower and my eyes were begging for some serious eye drops. There are multiple solutions to covering your eyes while offroading between glasses, goggles and a hybrid of the two. There is a wide range of glasses and goggles that you can purchase, some with very specific purpose. Let's talk about the different qualities and then you can dig into styles that fit your personality.
Why Wear
The common thought is goggles and glasses keep dust and dirt out of your eyes, which is absolutely true. They are also a huge safety mechanism. Let's take a dirt bike for an example, if you are riding through the woods there is a good chance a branch may impale through your helmet. It's common on offroad vehicles for rocks to be kicked up, having goggles or glasses on can be the protection you need from them hitting your eyes. Using eye protection while participating in recovery techniques is also important in case one of the links to the recovery breaks. Being proactive by wearing goggles really can help you from poking your eye out!
Fit
Goggles and glasses are all cut very differently. It is important to look at the style while considering the fitment to your face. There are some for larger faces and others for smaller, youth faces. You need something that will cover your eyes, while not restricting your nose or breathing. The fitment should also consider the width and height, trying to cover as much surface area of your face as possible.
Consider your view from the inside of the goggles or glasses, do you have a wide peripheral view, or is it actually limiting your vision?
If you are wearing a helmet, the openings are different in width and height. You may find a pair of goggles that fit your face really well, but when you go to put them on with a helmet, they pull off your face. It may be a small difference in size that makes the goggle not fit right and the strap keep it from letting the foam settle on your face. If ordering online, look for measurements, not just style.
Anti-Fog
If you tend to sweat a lot or be in a cold environment, you may have challenges with your glasses or goggles fogging up. There are specific options with an anti-fog treatment like Fog-Off and Smith's Fog Treatment wipes that come in handy to keep in your butt pack or personal vehicle bag. Some goggles even have fans installed in them now!
If you more of the DIY person, I found this great article on Off-Road.com that hosts a long list of ways to apply anti-fog treatments…with soap, Windex and other interesting ideas! 
All the Color Choices
Interchangeable lenses can be very important or purchasing a set of goggles if you are serious. See the amazing chart at the bottom of the post for all the information about each color. They all have a reason!
Charlene Tip: For the buggy, we buy cheap clear welding glasses at the welding supply store. We keep them in the center console or attached to the tube for those unexpected trail days that turn into late nights. It's not safe or fun to drive back to camp with your sunglasses on, or with no eye protection, at night.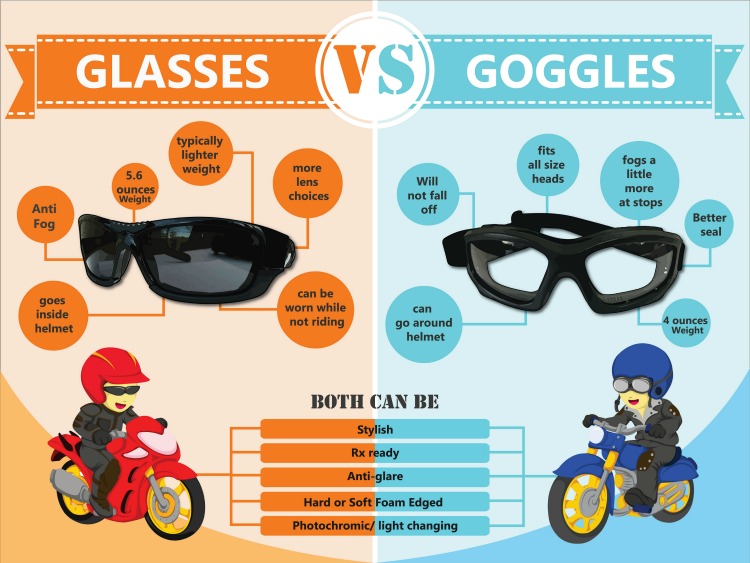 Embedded from uCollect Infographics
Glasses and Goggles
So you need your glasses to see, but you also need goggles to protect your eyes from the dirt. Most companies make specially cut goggles to accommodate glasses. If you are in the new "big frame" trend, you may have to buy a cheaper set to fit under a set of goggles, which isn't a bad plan anyways in case something happens to them!
If you use goggles consistently, you may look into prescription goggles or prescription inserts.
Fashion and Style
Of course from the details of what fits and works for your environment, it then turns to fashion and style. Every color is now available and in a range of different cuts to match your personality. Have fun with the shopping, there is plenty of options!
Did you know that there are now GPS, Video and other pretty significant technology that are part of goggles now? Wow!
Appreciate this Very Awesome Diagram from Evo.com who have a huge selection of Goggles in Stock every day!
LENS
LENS COLOR
BEST USE
LIGHT
MIRROR ORANGE
MIRRORED FINISH OFFERS THE MAXIMUM REDUCTION OF GLARE IN BRIGHT LIGHT CONDITIONS FOR IMPROVED PERFORMANCE AND VISIBILITY.
GLARE / BRIGHT LIGHT
MIRROR RED
MIRRORED FINISH OFFERS THE MAXIMUM REDUCTION OF GLARE IN BRIGHT LIGHT CONDITIONS FOR IMPROVED PERFORMANCE AND VISIBILITY.
GLARE / BRIGHT LIGHT
MIRROR RED
MIRRORED FINISH OFFERS THE MAXIMUM REDUCTION OF GLARE IN BRIGHT LIGHT CONDITIONS FOR IMPROVED PERFORMANCE AND VISIBILITY.
GLARE / BRIGHT LIGHT
MIRROR BLUE
MIRRORED FINISH OFFERS THE MAXIMUM REDUCTION OF GLARE IN BRIGHT LIGHT CONDITIONS FOR IMPROVED PERFORMANCE AND VISIBILITY.
GLARE / BRIGHT LIGHT
MIRROR GREEN
MIRRORED FINISH OFFERS THE MAXIMUM REDUCTION OF GLARE IN BRIGHT LIGHT CONDITIONS FOR IMPROVED PERFORMANCE AND VISIBILITY.
GLARE / BRIGHT LIGHT
SMOKE
NEUTRAL TINT REDUCES GLARE WHILE PROVIDING ACCURATE COLOR PERCEPTION IN MEDIUM TO BRIGHT LIGHT CONDITIONS.
GLARE / BRIGHT LIGHT
MEDIUM LIGHT
BLUE
INCREASED CONTRAST FOR VARYING CONDITIONS. IDEAL FOR MEDIUM TO LOW LIGHT
MEDIUM LIGHT
OVERCAST / LOW LIGHT
ORANGE
INCREASED DEPTH PERCEPTION AND CONTRAST. GREAT FOR OVERCAST CONDITIONS.
OVERCAST / LOW LIGHT
YELLOW
PERFECT FOR FLAT, LOW LIGHT CONDITIONS. THIS LENS IMPROVES THE CONTRAST AND DEFINITION OF ANY OBSTACLE YOU ENCOUNTER.
OVERCAST / LOW LIGHT
PERSIMMON
IDEAL FOR OVERCAST CONDITIONS. DEPTH PERCEPTION IS IMPROVED WITH INCREASED CONTRAST.
OVERCAST / LOW LIGHT
CLEAR
ALL PURPOSE LENS PROVIDES MAXIMUM AMOUNT OF LIGHT ALLOWANCE FOR ALL CONDITIONS.
GLARE / BRIGHT LIGHT
MEDIUM LIGHT
OVERCAST / LOW LIGHT
---
Author: Charlene Bower
---
Share with your Friends on Facebook:
Share with your Friends on Instagram:
Share with your Friends on Pinterest: